Consumer Affinity for Exotic Beverages Fuels Demand in the Mezcal Market at 14.2% CAGR from 2023 to 2033 | Future Market Insights, Inc.
In 2023, an astonishing 33.1% of the global mezcal consumption is projected to occur in the United States, making it the leading consumer of this spirit.
/EIN News/ -- NEWARK, Del, Sept. 25, 2023 (GLOBE NEWSWIRE) -- The mezcal market will be valued at US$ 557 million in 2023. In 2022, the mezcal market's valuation was US$ 430.3 million. The market is forecasted to capture an exceptional CAGR of 14.2% during the forecast period. By the end of 2033, the market is expected to reach a valuation of US$ 1,347.9 million.

A change in lifestyle for many people means frequent trips to bars, pubs, and the like. As the spending power of the people increases, their preferences also change. In the case of alcoholic drinks, there is now a growing demand for premium and luxury drinks. Several consumers are veering away from traditional drinks towards drinks like mezcal. Therefore, Shifting consumer preferences drives the demand in the mezcal market.
For a quick overview of the Comprehensive Research Report, consider downloading the Sample PDF Summary: https://www.futuremarketinsights.com/reports/sample/rep-gb-5067
Production of agave, the source ingredient of mezcal, is confined to Mexico. Nonetheless, there is a drive from mezcal suppliers to expand their market. Due to its closeness to Mexico, the United States has been the dominant force in the mezcal market. However, companies in the mezcal market are intending to have their products reach far and wide. The Asia Pacific is seen as a region with potential in the mezcal market.
Compared to other alcoholic beverages, mezcals are seen as more sustainable and organic. Made from agave, mezcals are sourced from natural ingredients. Mezcals are also termed to be healthier. Most mezcals are gluten-free and untampered mezcals contain very low sugar and calories. Thus, mezcal is quickly becoming the favored drink of the environment-conscious and the enthusiasts.
Mezcal offers consumers a unique smoky taste. This taste has made the drink popular among the bar-going crowd. The taste of mezcal is also being increasingly used to enliven cocktails. Nonetheless, mezcal manufacturers are becoming aware of the value of innovation.
"Mezcal drinks with different flavors diversify the portfolio of mezcal suppliers. Moreover, non-alcoholic mezcals are another innovation that is set to drive the market in the coming years," says an analyst at FMI.
Key Takeaways from the Mezcal Market
The mezcal market is predicted to be valued at US$ 1,347.9 million in 2033.
Mezcal Joven resoundingly leads in the product type segment, estimated to account for 63.3% of the market share.
100% tequila leads the concentration segment, predicted to make up 54.7% of the market share in 2023.
The United States is the key force in the mezcal market growth, it is expected to account for 33.1% of the market share in 2023.
The Asia Pacific region is tipped to experience growth in the coming years, with Japan forecasted to make up 2.2% of the mezcal market share in 2023.
China is also on an upward trajectory in terms of growth and is expected to account for 5.2% of the market share in 2023.
Request for Methodology: https://www.futuremarketinsights.com/request-report-methodology/rep-gb-5067
Competition Analysis of the Mezcal Market
The mezcal market is highly fragmented, but the established players are trying to gain control of a huge share of the market. Acquisitions and mergers are common strategies in the mezcal market. The mezcal manufacturers are also relying on a diverse portfolio to appeal to consumers. A few of the established players in the mezcal market are Bacardi Limited, Familia Camarena Tequila, Craft Distiller, and Destileria Tlacolula.
Key Companies in the Mezcal Market
Bacardi Limited
Familia Camarena Tequila
Craft Distiller
Destileria Tlacolula
Diageo Plc.
Don Julio
S.A.de.
El Silencio Holdings INC
Fidencio Mezcal
Desolas Mezcal
Drink Moday Inc.

Recent Developments in the Mezcal Market
In September 2023, Ilegal Mezcal was acquired by Bacardi Limited. Ilegal Mezcal is a specialty mezcal brand. With the acquisition, Bacardi is aiming to increase its foothold in the mezcal market.
In August 2023, American brand Desolas Mezcal formed a partnership with Canadian distributors Renaissance Wine Merchants. With the help of this partnership, the American brand is expanding into Canada.
In April 2022, Drink Monday Inc. introduced a non-alcoholic mezcal in the market. Named Monday Mezcal, the drink was an extension of the company's already extensive non-alcoholic drinks catalog.

Outpace Competitors By Leveraging Our Expertise. Buy Now For Unparalleled Industry Insights: https://www.futuremarketinsights.com/checkout/5067
Key Segments in the Mezcal Market
By Product Type:
By Concentration:
100% Tequila
Mixed Tequila
By Region:
North America
Latin America
Europe
South Asia
East Asia
Oceania
The Middle East and Africa (MEA)

Author:
Nandini Roy Choudhury (Client Partner for Food & Beverages at Future Market Insights, Inc.) has 7+ years of management consulting experience. She advises industry leaders and explores off-the-eye opportunities and challenges. She puts processes and operating models in place to support their business objectives. She has exceptional analytical skills and often brings thought leadership to the table.
Nandini has vast functional expertise in key niches, including but not limited to food ingredients, nutrition & health solutions, animal nutrition, and marine nutrients. She is also well-versed in the pharmaceuticals, biotechnology, retail, and chemical sectors, where she advises market participants to develop methodologies and strategies that deliver results.
Her core expertise lies in corporate growth strategy, sales and marketing effectiveness, acquisitions and post-merger integration and cost reduction. Nandini has an MBA in Finance from MIT School of Business. She also holds a Bachelor's Degree in Electrical Engineering from Nagpur University, India. Nandini has authored several publications, and quoted in journals including Beverage Industry, Bloomberg, and Wine Industry Advisor.
Top Reports Related To Food and Beverage Market Insights
Premium Alcoholic Beverages Market Size: The premium alcoholic beverages market is valued at US$ 0.7 trillion in 2022 and is projected to grow at a CAGR of 9.3% during the forecast period, reaching a valuation of US$ 1.7 trillion by 2032. 
Functional Beverages Market Share: The functional beverages market is projected to record a CAGR of 6% from 2022 to 2032.
Low-alcohol Beverages Market Trends: The global low-alcohol beverages market estimated at US$ 1.41 billion in the year 2023, is projected to reach a revised size of US$ 2.36 billion by 2033. 
Agave Nectar Market Sale: The global agave nectar demand is anticipated to rise at a CAGR of 6.3% through 2033. The market revenue is likely to be valued at US$ 2,06,024.0 million in 2023 and exhibit a revenue growth of US$ 3,78,776.4 million by 2033.
Agave Syrup Market Value: The global agave syrup market is expected to have robust growth in the coming years. According to projections, the market is estimated to reach a value of US$ 571.1 million by 2023, indicating a year-over-year growth rate of 5.4%.
About Future Market Insights (FMI)
Future Market Insights, Inc. (ESOMAR certified, recipient of the Stevie Award, and a member of the Greater New York Chamber of Commerce) offers profound insights into the driving factors that are boosting demand in the market. FMI stands as the leading global provider of market intelligence, advisory services, consulting, and events for the Packaging, Food and Beverage, Consumer Technology, Healthcare, Industrial, and Chemicals markets. With a vast team of over 5000 analysts worldwide, FMI provides global, regional, and local expertise on diverse domains and industry trends across more than 110 countries.
Contact Us:        
Future Market Insights Inc.
Christiana Corporate, 200 Continental Drive,
Suite 401, Newark, Delaware - 19713, USA
T: +1-845-579-5705
For Sales Enquiries: sales@futuremarketinsights.com
Website: https://www.futuremarketinsights.com
LinkedIn| Twitter| Blogs | YouTube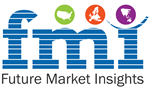 Powered by

EIN Presswire does not exercise editorial control over third-party content provided, uploaded, published, or distributed by users of EIN Presswire. We are a distributor, not a publisher, of 3rd party content. Such content may contain the views, opinions, statements, offers, and other material of the respective users, suppliers, participants, or authors.
Submit your press release